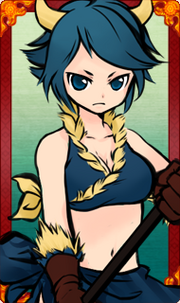 Axe type Hime specialise in brute strength. Their sluggish speed ensures they will almost always attack last in a fight, but strike with enough force to bring the enemy down in one blow.
Axes are strong against Bow and Spear type enemies. Do note however against the Bow type's overwhelming speed, it may be possible to suffer multiple hits.
Axes are paired to be an equal match with Swords.
Axes' weakness is to Magic, Sprite and Recovery type enemies.
Normal Himes
Edit
Name
Rarity
Base Level Cap
Base HP
HP /level
Base ATK
ATK /level
Base DEF
DEF /level
Base AGI
AGI /level

Basic
5
90
4
95
7
90
6
70
3

Variant Basic
10
90
4
95
7
95
7
75
3

Elite
10
95
5
100
8
95
7
75
4

Rare
10
95
6
105
8
100
7
75
5

Variant Elite
10
95
6
105
8
100
7
75
5

Superior
10
100
6
110
8
105
7

80

5

Extremely Rare
10
100
6
115
9
105
8
83
5

Variant Superior
10
100
7
150
10
105
7
80
4

Superior
Extremely Rare
10
105
7
120
10
110
8
88
5

Ultimate
Extremely Rare
20
99
7
115
9
107
7
80
4

Variant Superior
Extremely Rare
20
105
6
160
9
113
8
80
4

Ultimate Superior
Extremely Rare
20
136
8
132
9
118
7
93
5

Ultimate
Variant Superior
Extremely Rare
25
154
7
154
7
128
8
110
6

Kei
Extremely Rare
25
148
8
157
7
103
7
97
5

Kei
Extremely Rare
25
155
8
165
7
118
6
95
6

Kei
Extremely Rare
25
160
?
175
?
120
?
110
?

Legendary
20
140
9
160
8
120
8
100
6
Story Himes
Edit
Name
Rarity
Base Level Cap
Base HP
HP /level
Base ATK
ATK /level
Base DEF
DEF /level
Base AGI
AGI /level

Basic
15
90
4
95
7
90
5
70
4

Variant Basic
15
90
4
105
8
95
7
75
3

Elite
15
95
5
100
9
95
7
75
4

Rare
15
100
7
135
9
87
6
100
5

Variant Elite
15
100
6
110
9
100
7
75
5

Foreign
15
110
?
120
?
100
?
85
?

Superior
15
100
6
115
9
110
7
80
5

Extremely Rare
15
121
6
125
9
110
8
94
5

Foreign Rare
15
110
?
120
?
112
?
90
?

Variant Superior
15
123
8
124
10
161
7
163
5

Superior
Extremely Rare
15
160
?
170
?
120
?
120
?

Foreign
Extremely Rare
15
180
?
160
?
110
?
140
?

Variant Superior
Extremely Rare
15
180
9
160
10
110
7
140
6
Foreign Himes
Edit
Name
Rarity
Base Level Cap
Base HP
HP /level
Base ATK
ATK /level
Base DEF
DEF /level
Base AGI
AGI /level

Foreign
10
98
7
108
9
102
8
78
6

Foreign Rare
10
102
7
112
9
107
8
83
6

Foreign
Extremely Rare
20
113
9
120
9
113
8
90
6

Ultimate Foreign Extremely Rare
20
138
9
152
9
118
8
97
6
Limited Edition Himes
Edit
Name
Rarity
Base Level Cap
Base HP
HP /level
Base ATK
ATK /level
Base DEF
DEF /level
Base AGI
AGI /level

Basic
15
120
4
120
7
90
6
70
7

Variant Basic
15
110
5
110
7
110
7
90
4

Elite
15
85
6
125
8
90
7
85
5

Elite
15
120
8
160
8
100
9
140
5

Rare
15
108
7
140
9
98
7
103
6

Rare
10
120
7
140
9
100
7
110
6

Variant Elite
15
94
7
111
8
106
8
71
5

Variant Elite
15
120
7
138
9
101
8
95
5

Foreign
15
101
7
111
9
115
8
81
6

Foreign
20
113
6
119
8
116
7
88
5

Superior
15
130
6
160
8
100
7
100
5

Extremely Rare
15
162
7
155
9
115
8
90
6

Foreign Rare
15
105
7
115
9
110
8
86
6

Foreign Rare
10
117
7
125
9
114
8
86
6

Variant Superior
15
106
7
156
11
104
7
76
4

Variant Superior
15
170
6
114
11
114
5
95
6

Foreign
Extremely Rare
20
?
?
?
?
?
?
?
?

Legendary
20
135
9
170
8
115
7
95
7