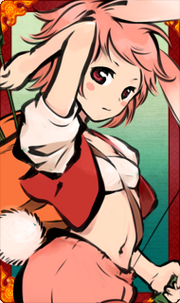 Bow type Hime are the fastest in the game. Their relatively fragile Defenses may make them difficult to use in the early game compared to Spears, but further on when speed is more vital their nigh-guaranteed preemptive strikes can hammer the enemy before they can retaliate. This especially begins to apply near the end-game as offensive power outstrips defensive growth.
Bows are strong against Sprite, Magic and Recovery type enemies.
Bows are paired to be an equal match with Spears.
Bows' weakness are to Sword and Axe type enemies.
Normal Himes
Edit
Name
Rarity
Base Level Cap
Base HP
HP /level
Base ATK
ATK /level
Base DEF
DEF /level
Base AGI
AGI /level

Basic
5
85
5
80
5
85
3
95
7

Variant Basic
10
90
5
80
7
85
3
100
6

Elite
10
90
6
85
6
90
4
100
8

Rare
10
90
6
85
7
95
5
110
8

Variant Elite
10
90
6
85
7
95
5
110
8

Superior
10
95
6
90
7
100
5
115
8

Extremely Rare
10
100
6
95
8
100
5
118
9

Variant Superior
10
100
6
100
8
95
4
128
11

Superior
Extremely Rare
10
105
7
100
8
105
5
123
10

Ultimate
Extremely Rare
20
97
5
98
8
105
5
120
9

Variant Superior
Extremely Rare
20
108
5
110
8
105
6
128
9

Ultimate Superior
Extremely Rare
20
111
5
122
9
110
6
137
9

Ultimate
Variant Superior
Extremely Rare
25
121
7
134
7
125
7
148
8

Kei
Extremely Rare
25
115
7
128
7
112
6
155
9

Kei
Extremely Rare
25
110
7
118
8
125
6
163
8

Legendary
20
115
5
136
9
120
6
152
9
Story Himes
Edit
Name
Rarity
Base Level Cap
Base HP
HP /level
Base ATK
ATK /level
Base DEF
DEF /level
Base AGI
AGI /level

Basic
15
85
5
80
5
85
3
105
8

Variant Basic
15
90
5
80
7
85
3
100
7

Elite
15
90
6
85
7
90
5
110
9

Rare
15
90
6
95
7
95
7
120
8

Variant Elite
15
90
6
90
7
95
5
115
9

Foreign
15
105
?
85
?
92
?
118
?

Superior
15
95
6
95
8
100
5
120
9

Extremely Rare
15
110
6
110
8
105
5
125
9

Foreign Rare
15
100
?
110
?
100
?
130
?

Variant Superior
15
134
6
154
8
136
4
156
11

Superior
Extremely Rare
15
140
7
150
8
130
5
160
10

Foreign
Extremely Rare
15
130
?
140
?
120
?
150
?

Variant Superior
Extremely Rare
15
150
6
160
9
130
6
160
10
Foreign Himes
Edit
Name
Rarity
Base Level Cap
Base HP
HP /level
Base ATK
ATK /level
Base DEF
DEF /level
Base AGI
AGI /level

Foreign
10
92
7
90
8
88
6
103
9

Foreign Rare
10
96
7
93
8
102
6
117
9

Foreign
Extremely Rare
20
109
7
115
8
103
7
129
9

Ultimate Foreign
Extremely Rare
20
117
7
122
8
110
7
150
9
Limited Edition
Edit
Name
Rarity
Base Level Cap
Base HP
HP /level
Base ATK
ATK /level
Base DEF
DEF /level
Base AGI
AGI /level

Basic
15
80
6
80
5
85
5
120
7

Variant Basic
15
90
6
117
6
86
4
117
7

Elite
15
100
6
95
8
90
5
125
9

Elite
20
120
6
122
8
131
5
147
9

Rare
15
125
7
120
8
105
6
130
9

Rare
15
125
7
125
8
80
6
150
9

Rare
10
130
7
125
8
90
6
134
9

Variant Elite
15
120
6
110
7
120
5
136
8

Foreign
15
92
7
90
8
91
6
115
9

Foreign
15
98
7
92
7
96
7
114
9

Superior
15
120
8
125
7
100
8
145
9

Extremely Rare
15
132
6
138
9
110
5
142
10

Foreign Rare
15
96
7
95
8
95
6
119
9

Foreign Rare
15
107
x
115
x
125
x
130
x

Variant Superior
15
103
6
124
8
110
4
135
11

Superior
Extremely Rare
15
118
7
145
8
125
5
150
9

Variant Superior
Extremely Rare
30
110
5
111
8
106
6
127
9

Legendary
20
120
7
140
8
117
6
155
9