Darkness Garden
Edit
... A mysterious garden suddenly appears on the surface. It smells of blood. People said that they can spot a furious Shikihime with some strange, yet powerful demons there. A strong barrier is built, and you can only challenge it 20 times a day.
Difficulty

Bronze

Silver

Gold
Exp
0
0
0
Floors
2
Rooms
3

This event dungeon is available during Elemental Week event.
Note*Map One [You can only run this dungeon 20 times a day]
Requirement to Unlock:
??
Encounters
Edit
Aside from the boss, encounters for each wave are randomized.
Floor 1, Waves 1-3:
Floor 2, Waves 1-3, Boss:
Boss:

Succubus x2

Underworld Satori
Floor one reward:
Final reward:
Gold Difficulty
Floor 1, Waves 1-3:

Floor 2, Waves 1-3,Boss:

-Skills-
Boss:
Dark Thanatos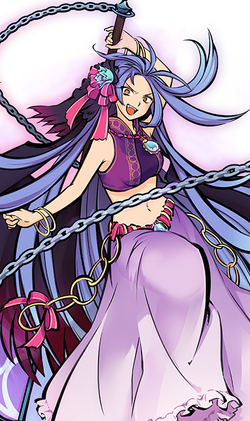 Floor one reward:
Final reward: