Note:
Map Three [ You can run this dungeon after reaching Player Lvl. 10 ]
As of June 2nd, every 10th floor can drop Pandemonium's Item Cards.
Endless Inferno has a separate ranking to show who reaches the highest number of floors
| First | Second | Third |
| --- | --- | --- |

Tip: 
You can use Broken Stone Statues and Bronze Statues but the count goes down by 1 for every 10 floors cleared.
You can use this place as free Bottle of God Wine by putting the himes you want to full heal in the deck(s), start the challenge then refresh browser.
If you cannot reach the end of Endless Inferno quickly, you can leave half way by creating a checkpoint then come back to challenge later. 
Notes* Results from [Continue Challenge] will not be reflecting in the ranking and after leaving Endless Inferno you must wait 24 hrs. to be able to use the feature [Continue Challenge].
Unique Monster Skills
Edit
Rooms 1-10
Edit
Reward - Lava Statue of Koume 

Rooms 11-20
Edit
Floor
Monster
Skill
11
Rock Head / Tsuchinoko
12
Rock Head / Blue Demon
13
Rock Head / Blue Demon / Tsuchinoko
14
Chimi  *AoE* / Mouryou
15
Fire Dragon

 *AoE*

16
Kijimuna
Fire Wolf: Mage Target
17
Unknown Fire / Fire Wolf
Fire Wolf: Mage Target
18
Crimson Lantern / Sarugami
19
Bone Samurai / Sarugami
20
Three-eyed Priest

*AoE*
Reward - Lava Mass

Rooms 21-30
Edit
Reward - Fire Pond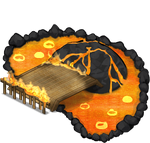 Rooms 31-40
Edit
Floor
Monster
Skill
31
Nurikabe x3
(L): Decoy + Endurance
(M&R): Underlying Strength
32
Nurikabe
Nurikabe: Endurance
33
Hoan / Nue
Hoan : Attack Up
34
Red Priest / Golden Flower Cat*AoE*
35
Thunder Beast
Lightning Strike
36
Red Priest x3  / Nocturnal Foot
37
Nocturnal Foot  / Hizama  / Furi
Furi: Attack Boost
38
Furi x3
All: Attack Boost + Attack Up
39
Hizama x3  / One-eyed Priest *AoE*
Hizama: Mage Target
40
Golden Bird

Swift Strike + Arrow Rain
Reward - Volcano Stage
Rooms 41-50
Edit
Reward - Eight-forked Serpent Statue 


Note* Floor 51+ Restarts from Floor 1 with increasing stats