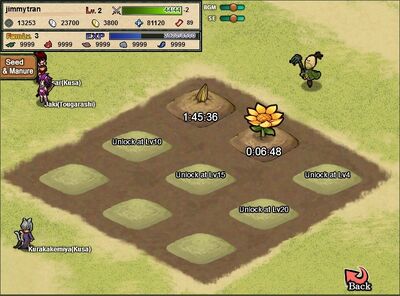 At the farm, Seeds and Manures are planted in field plots to grow a variety of useful items. Whenever seeds are planted, the farm gains experience (possibly proportional to the amount of manure used). As the farm levels up, more field plots become accessible, as tabulated on the Field page.
For convenience, some groups of rewards will be represented by one name. Expand this reference list to see the groups.
General Recipes
Edit
These rewards can be obtained by planting a seed with the same amount of each type of manure. (Note: Click on a column header to sort the table.)
Event Recipes
Edit
These are recipes that only give the stated rewards during certain event periods. The following disclaimers are made about them:
The suggested recipe does not guarantee you the target item.
The suggested recipe is not guaranteed to be most successful for the target item.
Manure recipes are in the order (Wood, Fire, Earth, Gold, Water). (Note: Click on a column header to sort the table.)
Duration (h:m:s)
Month
Event
Reward
Manure
00:20:00
January
New Year with Good Fortune!
Daikokuten Statue
(300, 300, 300, 300, 300)
00:20:00
January
New Year with Good Fortune!
Benzaiten Statue
(300, 300, 300, 300, 300)
04:00:00
November
Foreign Campaign
Apricot x1
(660, 510, 660, 510, 660)
08:00:00
November
Foreign Campaign
Cherry x1
(465, 700, 670, 700, 465)
12:00:00
November
Foreign Campaign
Yuzu x1
(600, 600, 600, 600, 600)
November
Anzu Apricot
(1100, 1200, 1300, 1200, 1100)
06:00:00
June
Rainbow Ticket Time!
Rainbow Ticket Fragment x1
(800, 800, 800, 800, 800)
00:50:00
February
Chocolate x1
(70, 70, 70, 70, 70)
03:00:00
February
Chocolate x4
(70, 70, 70, 70, 70)
01:30:00
September
6-Month Celebration (part 2)
Skill Ball x15
(200, 200, 200, 200, 200)
24:00:00
July 2015
Summon Week
Pattern of Superior Race x1
(650, 750, 650, 750, 650)
00:11:10
December
Christmas is coming!
Presents (small) x2
(67, 77, 77, 77, 77)
00:07:05
December
It's Christmas time!
Fried Chicken x2
(134, 154, 154, 154, 154)