"This used to be a fort guarded by legendary archers." (It used to say this)
"Fort guarded by legendary archers in the past.
You might find something related to bow and arrows here." (Now it says this)
(Yet nary a bow-using enemy in sight. . . )
Difficulty

Bronze

Silver

Gold
Exp
100
300
500
Floors
1
Rooms
4

You will receive nothing after clearing this subjugation. Ha!

Requirement to Unlock:
Clear the quest [Defeat Giant Catfish at Big Lake!]
[大きな湖]の[大鯰]を退治するのじゃ!
Note*: Bring a Mage and you'll be fine. You can find Cushion and Multi-circle Target here for the early quests.
Encounters
Edit
Difficulty only changes stats.
Floor 1, Waves 1-3:
Floor 1, Wave 4, Boss:
Boss:
Bone Ronin x3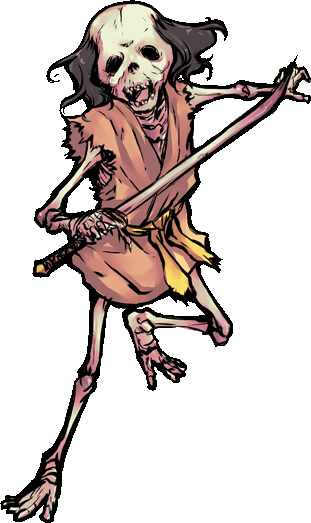 Event Only:
Edit
Fort of Archers......but only 1 bow type enemy........more like fort of archers' demise......