Hime
(
lit. meaning 'Princess'
) cards are the base of
Shikihime Garden
.
With Hime cards players populate their gardens with the mythical and ghostly princesses where they prepare to fight in battles against monsters or in player vs. player battles
Hime Attributes
Edit

So far 6 types (Attributes) of Hime cards are in the game and are divided by the weapon they use: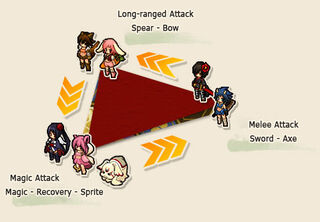 There are no Sprite Hime, only monsters.

Each Hime type is divided into many tiers of power based on card rarity:

The rarity determines Hime Card power, the maximum amount of Elemental brush or Medicine boost, and the amount of Experience needed to level up the hime card. It also determines how many Magatama the hime can hold.
Each Hime Card is differentiated by its Type and Tier(aka Rarity). Every Tier consists of 6 Types.
Below is a table of Hime Types by Hime Tiers(it's a VERY BIG list.. so bear with it...):
NOTE:
(C) means Chibi Hime
(Sp) means Special Edition Hime
(*) means unreleased in ENG Server (no longer applicable)
(**) means unreleased in JP Server
Aside from the permanently available Hime cards, from time to time there are ways to get temporarily available Special Edition cards. These Hime cards look different and have different stats(or even a completely different build, eg. Komainu and Sp Komainu) than their regular counterparts.
Example: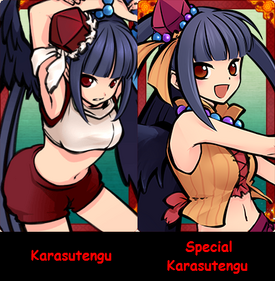 Story Hime, aka Chibi Hime, are smaller(and cuter :3) versions of the normal ones. They first appeared in Story Mode, and was released as Limited Edition Cards(aka only obtainable in events).
Current tiers released for Chibi Hime are: Basic, Variant Basic, Elite, Rare, Variant Elite, Foreign, Superior, Extremely Rare, Foreign Rare(Incomplete), Variant Superior, Superior Extremely Rare, Foreign Extremely Rare(Incomplete), and Variant Superior Extremely Rare
Their Stats varies as like Special Edition Hime, but they are unable to Rank-Up(aka +1/+2). They are, however, able to Tier-Up(as in unite to the next tier, Komainu>Shisar>Nekomata and so on, up to a certain point).
Note: They do NOT count as Special Hime. They have their own group called Chibi, or 'Kakeai' (かけあい).
Examples: