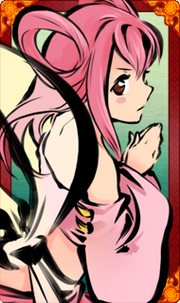 Recovery type Hime can heal all your Himes at the end of every encounter. The frequency of their healing in combat is random but it depends of their tier. Highest tier rec hime almost always heal.
Their stats are lower across the board compared to all other types but come with the extra skill Recovery. They are best swapped in when the fight is about to end.
They are highly vulnerable on the front line, but with sufficient enhancement it is not impossible for them to hold their own.
Recovery is strong against Sword and Axe.
Recovery is paired to be an equal match with Magic.
Recovery's weakness is to Spear and Bow type enemies.
Normal Himes
Edit
Name
Rarity
Base Level Cap
Base HP
HP /level
Base ATK
ATK /level
Base DEF
DEF /level
Base AGI
AGI /level
Base REC
REC /level

Basic
5
80
4
70
2
65
3
65
6
8
1

Variant Basic
10
80
4
71
3
70
4
65
6
10
1

Elite
10
85
5
72
3
70
4
70
7
11
1

Rare
10
85
5
71
3
70
4
75
7
12
1

Variant Elite
10
85
5
72
3
70
4
75
7
11
1

Superior
10
90
5
75
3
85
4
80
7
12
1

Extremely Rare
10
92
6
78
3
90
5
82
7
13
1

Variant Superior
10
97
6
77
3
98
7
80
7
17
1

Superior
Extremely Rare
10
97
6
83
3
95
6
87
8
12
1

Ultimate
Extremely Rare
20
93
6
85
5
95
6
76
7
12
1

Variant Superior
Extremely Rare
20
99
6
90
7
90
6
86
7
18
1

Ultimate Superior
Extremely Rare
20
95
7
84
5
95
6
80
7
15
1

Ultimate
Variant Superior
Extremely Rare
25
98
5
94
3
108
6
96
5
28
1

Kei
Extremely Rare
25
97
5
99
4
98
6
92
6
25
1

Kei
Extremely Rare
25
105
6
90
4
85
7
100
6
26
1

Kei
Extremely Rare
25
110
6
97
4
89
7
97
6
27
1

Legendary 
20
100
6
82
5
100
7
84
6
25
1

Legendary
20
100
6
100
5
100
7
98
6
30
1
Story Himes
Edit
Name
Rarity
Base Level Cap
Base HP
HP /level
Base ATK
ATK /level
Base DEF
DEF /level
Base AGI
AGI /level
Base REC
REC /level

Basic
15
85
5
70
2
65
3
65
5
8
1

Variant Basic
15
80
5
71
3
70
4
65
6
14
1

Elite
15
85
6
72
4
70
4
70
7
15
1

Rare
15
90
5
71
3
80
4
85
7
20
1

Variant Elite
15
92
6
82
4
80
5
78
7
16
1

Foreign
15
94
?
83
?
81
?
87
?
15
?

Superior
15
92
5
75
4
85
5
82
7
17
1

Extremely Rare
15
98
6
84
4
92
5
86
8
18
1

Foreign Rare
15
97
?
80
?
90
?
89
?
20
?

Variant Superior
15
116
?
97
?
140
?
99
?
22
1

Superior
Extremely Rare
15
117
6
104
3
127
6
100
8
19
1

Variant Superior
Extremely Rare
15
120
8
100
5
120
11
110
8
25
1
Foreign Himes
Edit
Name
Rarity
Base Level Cap
Base HP
HP /level
Base ATK
ATK /level
Base DEF
DEF /level
Base AGI
AGI /level
Base REC
REC /level

Foreign
10
88
6
74
4
80
5
78
8
12
1

Foreign Rare
10
93
6
77
4
85
5
81
8
14
1

Foreign
Extremely Rare
20
100
7
82
5
90
6
92
9
20
1

Ultimate Foreign
Extremely Rare
20
99
6
99
5
97
7
92
6
15
1
Limited Edition Himes
Edit
Name
Rarity
Base Level Cap
Base HP
HP /level
Base ATK
ATK /level
Base DEF
DEF /level
Base AGI
AGI /level
Base REC
REC /level

Basic
15
90
4
50
4
90
4
70
6
12
1

Variant Basic
15
87
5
74
7
72
4
77
7
12
1

Variant Basic
15
95
5
86
7
76
4
110
7
18
1

Elite
15
100
6
82
4
80
6
120
8
20
1

Elite
20
100
6
72
3
84
5
121
9
25
1

Rare
15
124
6
105
4
100
4
125
8
25
1

Rare
10
104
6
50
4
95
5
93
8
16
1

Variant Elite
15
90
6
75
5
80
6
80
7
16
1

Foreign
15
91
6
77
4
83
5
81
8
12
1

Foreign
20
99
6
89
4
86
5
99
8
18
1

Superior
15
97
5
82
7
87
4
92
8
14
1

Superior
15
107
6
62
5
97
6
92
7
16
1

Extremely Rare
10
102
6
63
3
84
5
100
7
13
1

Extremely Rare
15
99
6
88
3
107
5
95
7
15
1

Foreign Rare
15
96
6
80
4
88
5
84
8
14
1

Foreign Rare
15
94
6
79
4
86
5
82
8
16
1

Variant Superior
15
98
6
76
3
92
6
86
8
15
1

Variant Superior Extremely Rare
30
100
6
95
5
115
6
95
7
15
1

Variant Superior Extremely Rare
30
130
?
105
?
120
?
105
?
40
?

Variant Superior
Extremely Rare
20
110
5
100
6
100
6
94
6
20
1

Legendary
20
99
7
80
5
107
8
93
7
31
1

Legendary
20
98
6
106
5
99
7
97
6
34
1