"There is a strange cave here. That is where fairy used to live... It is likely that we can find some fairy items remained... However, I have a bad feeling about it..."
Difficulty

Bronze

Silver
Exp
900
1300
Floors
2
Rooms
3

You will receive nothing after clearing this subjugation. Ha!

Note*[Upon completion of this subjugation, there is a small chance to encounter the guild boss known as Asmodeus] (Event Only)
Requirement to Unlock:
Clear the quest [Defeat Hizama at Mourning Mountain Pass!]
[嘆きの峠]の[ヒザマ]を退治するのじゃ!
Encounters:
Edit
Floor 1, Waves 1-3:
Floor 2, Waves 1-3, Boss:
Boss:
Gama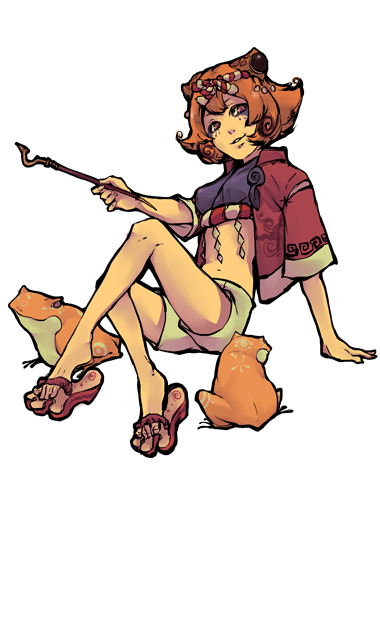 Final Floor:
Edit
Recommended Party: Axe x3 or Sword / Mage x3 / Recovery x2
Boss Guide: She's an AoE sword boss, and the best way to defeat her is to rush her with your mages and axes. It doesn't matter if your axes were left with little HP somewhere since healers actually do a good amount of damage to her too. If you reach her with x3 Magic Hime and x2 Recovery Hime, victory is assured. (her DEF is low, abt 40 in silver difficulty.)
Monster Tips:
Wild Fire - You should be aware that it will probably double tap (meaning to hit twice in a row) your axes since it has 170 agility(more than 275 in silver difficulty).
They have more than 248AGI even in bronze, even higher AGI when in groups of 3.
Unknown Fire - The strongest Sword monster there, and you want to get rid of it sooner rather than later.
High ATK when in the group of Demon/Wild/Unknown Fire, not as pain when in groups of 3. Has over 170 AGI in bronze.
Fire Demon - Easiest variant to kill, because it does laughably small amounts of damage when compared to others.
Still true^