This shrine is the place where mages mastering the Five Universal Elements are resting.
If you do not explore actively here, a barrier will be activated,
thus blocking your way in. And you can also find special items for Shikihime,
so you should check here regularly.
| Difficulty | Bronze |
| --- | --- |
| Exp | 0 |
| Floors | 1 |
| Rooms | 3 |

Note* Map One [You can run this subjugation up to 10 times a day.]

Requirement to Unlock:
Clear the quest: [Defeat Blue Running Lantern!]
[荒廃した街]の[青行燈]を退治するのじゃ!
Note*: This three-monster dungeon is where you get the quest material to create Elements needed for Elemental Brushes.
Encounters
Edit
Floor 1, Room 1 & 2:
Floor 1, Room 3 (Boss):
Boss:
Fudagaeshi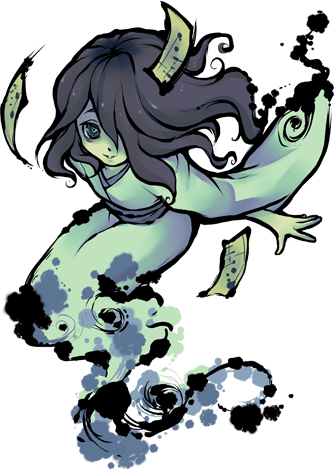 A guide isn't really needed here, just get some spears or bows and you can clear it easily.