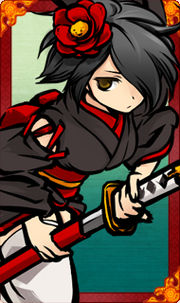 Sword type Hime are one of the most versatile Hime for your Shikihime deck. Sword Hime tend to have well balanced stats that can be useful in many encounters. They also have the highest defense in the game, making them great tanks.
Swords are strong against Bow and Spear type enemies.
Swords are paired to be an equal match with Axes.
Swords' weakness is to Magic, Sprite and Recovery type enemies.
Normal Himes
Edit
Name
Rarity
Base Level Cap
Base HP
HP /level
Base ATK
ATK /level
Base DEF
DEF /level
Base AGI
AGI /level

Basic
5
90
6
85
5
90
6
90
4

Variant Basic
10
90
6
90
5
95
7
90
5

Elite
10
95
7
90
6
95
7
95
5

Rare
10
95
7
95
7
100
8
95
5

Variant Elite
10
95
7
95
7
100
8
95
5

Superior
10
100
7
100
7
105
8
100
5

Extremely Rare
10
102
7
102
8
110
8
102
6

Variant Superior
10
105
7
100
6
120
10
102
6

Superior
Extremely Rare
10
107
8
107
8
115
9
107
6

Ultimate
Extremely Rare
20
105
6
103
7
113
8
98
6

Variant Superior
Extremely Rare
20
110
6
110
6
120
8
110
7

Ultimate Superior
Extremely Rare
20
124
8
123
7
123
8
114
6

Ultimate
Variant Superior
Extremely Rare
25
142
7
128
7
138
8
124
6

Kei
Extremely Rare
25
138
7
125
7
130
6
120
7

Kei
Extremely Rare
25
150
6
134
7
140
6
136
7

Kei
Extremely Rare
25
160
7
138
6
150
7
140
6

Legendary 
20
140
8
130
8
140
9
120
6
Story Himes
Edit
Name
Rarity
Base Level Cap
Base HP
HP /level
Base ATK
ATK /level
Base DEF
DEF /level
Base AGI
AGI /level

Basic
15
80
5
85
5
90
6
100
5

Variant Basic
15
90
6
90
5
95
8
105
5

Elite
15
100
8
90
6
100
8
95
5

Rare
15
100
8
95
7
100
7
100
6

Variant Elite
15
100
7
95
7
105
9
95
5

Foreign
15
95
8
100
9
105
8
95
7

Foreign
15
94
x
101
x
104
x
99
x

Superior
15
105
8
100
7
110
9
100
5

Extremely Rare
15
107
7
107
8
115
8
102
6

Foreign Rare
15
107
?
107
?
107
?
103
?

Foreign Rare
15
130
?
135
?
134
?
133
?

Variant Superior
15
120
7
102
6
125
10
118
6

Superior
Extremely Rare
15
119
8
112
8
123
9
117
6

Foreign
Extremely Rare
15
150
?
109
?
108
?
114
?

Variant Superior
Extremely Rare
15
120
8
113
9
111
9
120
6
Foreign Himes
Edit
Name
Rarity
Base Level Cap
Base HP
HP /level
Base ATK
ATK /level
Base DEF
DEF /level
Base AGI
AGI /level

Foreign
10
98
8
98
8
102
9
98
6

Foreign Rare
10
102
8
102
8
107
9
103
6

Foreign
10
96
8
99
9
102
8
100
6

Foreign Rare
10
100
8
103
9
107
8
106
6

Foreign
Extremely Rare
20
130
10
104
8
110
9
106
6

Foreign
Extremely Rare
20
124
9
112
9
105
8
110
7

Ultimate Foreign
Extremely Rare
20
142
10
124
8
135
9
130
6

Ultimate Foreign
Extremely Rare
20
137
9
130
8
140
10
124
6
Limited Edition Himes
Edit
Name
Rarity
Base Level Cap
Base HP
HP /level
Base ATK
ATK /level
Base DEF
DEF /level
Base AGI
AGI /level

Basic
15
90
6
90
6
95
7
90
4

Variant Basic
15
100
6
105
5
100
7
105
5

Elite
15
92
8
96
7
101
9
96
5

Elite
15
95
7
94
7
100
7
96
5

Elite
20
110
7
120
8
120
7
130
7

Rare
15
110
7
120
8
110
8
120
7

Rare
10
100
7
100
8
90
7
100
9

Variant Elite
15
98
7
98
7
103
8
98
5

Variant Elite
15
109
7
99
7
116
8
110
5

Foreign
15
101
8
101
8
105
9
101
6

Foreign
20
140
7
112
7
144
7
124
6

Foreign
15
99
8
102
9
105
8
103
6

Foreign
20
120
6
136
8
150
7
114
6

Superior
15
135
8
125
8
130
9
110
6

Superior
15
135
8
125
8
120
7
127
6

Extremely Rare
15
142
7
130
8
135
8
122
7

Foreign Rare
15
105
8
105
8
110
9
106
6

Foreign Rare
15
103
8
103
8
109
9
104
6

Foreign Rare
10
120
8
115
8
104
8
112
7

Foreign Rare
15
103
8
106
9
110
8
109
6

Foreign Rare
10
100
7
134
9
112
8
105
7

Variant Superior
15
130
7
110
6
130
9
110
7

Superior
Extremely Rare
15
109
8
129
8
120
9
102
6

Foreign
Extremely Rare
20
126
10
114
7
105
9
116
7

Foreign
Extremely Rare
20
?
?
?
?
?
?
?
?

Legendary
20
135
9
150
9
130
8
125
7